We have free samples for you!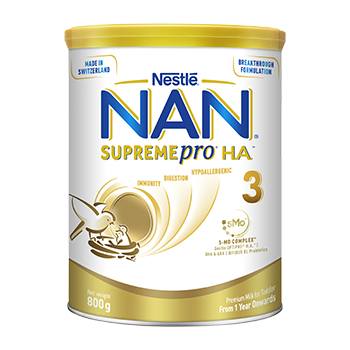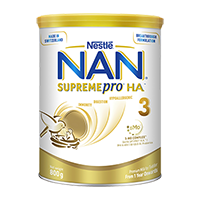 Request NAN SUPREMEPRO H.A. 3 free sample
The best a parent can get – NAN SUPREMEPRO H.A. 3, the first and only breakthrough formulation with 5-MO ComplexTM - an exclusive blend of 5 types of milk oligosaccharides – 2'-FL, DFL, LNT, 3'-SL, 6'-SL, and SUPREME PROTECTORS* to support your child's Immunity and beyond.
Made gentle for your child with Gentle OPTIPRO H.A., our improved partially hydrolyzed protein blend, and extensively studied BIFIDUS BL Probiotics help nourish your child's every possible. The groundbreaking formulation also has 2.5 times increase in DHA & ARA for brain and eye development.
*SUPREME PROTECTORS: with Iron, Vitamin A, B12, C & Folic acid which contribute to normal function of the immune system
Not quite what you're looking for?
Try out our new smart search engine.