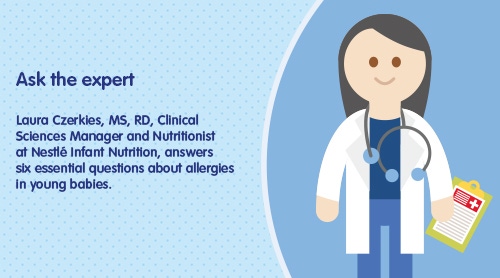 1. What causes babies or children to develop allergies?
The causes of allergies aren't completely clear, but children are more likely to develop an allergy if there's a history of it in the family. Children with one allergic parent have a 20-40% risk of allergies. Where both parents have an allergy, the risk goes up to 40-60%. However, your baby can still develop an allergy even if there is no family history of it.
2. I know there is a family history of allergies—what should I do?
If you have any concerns about your family history, discuss them with your healthcare provider.
3. What are the symptoms of an allergy to cow's milk protein?
The signs of an allergy to cow's milk protein vary, but the most frequent include eczema, vomiting, and diarrhea.
4. Will avoiding milk or foods containing cow's milk help ensure my baby doesn't develop an allergy to it?
Some women mistakenly believe that they should avoid certain foods while breastfeeding to decrease the chances of their baby having a reaction. But in fact it is not recommended that you restrict your diet or avoid allergens while breastfeeding. Current guidelines for breastfeeding women are to eat a balanced diet of nutrient-rich foods from the five food groups.
5. How can I try and avoid my baby developing an allergy?
You are highly encouraged to breastfeed your child despite whether your child is at risk of allergies or not.   With children have family history of allergies, it is advisable for mothers to exclusively breast feed their children for the first crucial months.  Consult your healthcare provider or lactation specialist regarding breastfeeding. 
6. I have allergies so my baby might be at high risk—what else can I do?
Research suggests that some probiotics may be effective in reducing the risk of your baby developing eczema. Your baby may benefit if you take specific probiotic supplements because he'll receive them in your breast milk. Discuss with your healthcare provider to see if this might be suitable for you.
Sources
Agostoni C, Braegger C, Decsi T et al. Breast-feeding: A commentary by the ESPGHAN Committee on Nutrition. J Pediatr Gastroenterol Nutr 2009; 49(1):112–25.
Cuello-Garcia CA, Brozek JL, Fiocchi A et al. Probiotics for the prevention of allergy: A systematic review and meta-analysis of randomized controlled trials. J Allergy Clin Immunol 2015; 136(4):952-61.  
Fleischer DM, Spergel JM, Assa'ad AH et al. Primary prevention of allergic disease through nutritional interventions. J Allergy Clin Immunol Pract 2013; 1(1):29-36.
https://www.healthychildren.org/English/ages-stages/baby/breastfeeding/Pages/Infant-Allergies-and-Food-Sensitivities.aspx (Accessed December 29 2016)
http://www.worldallergy.org/professional/allergic_diseases_center/cows_milk_allergy_in_children/ (Accessed December 29 2016)